[Giveaways] Lootcrate! – June 2014: Transform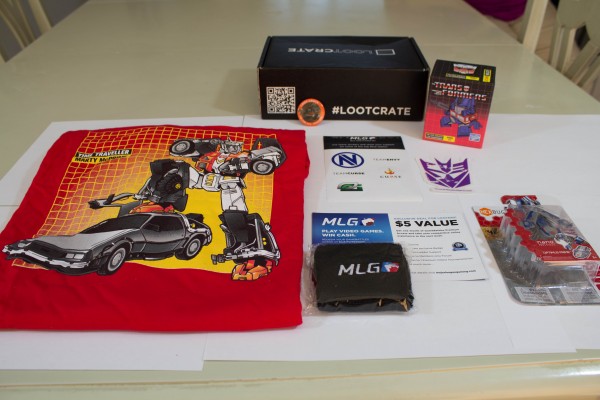 We're happy to announce our first Lootcrate Giveaway! Enter the contest to win some cool prizes from the June 2014 edition of Lootcrate.
This slideshow requires JavaScript.
The theme of the June 2014 Lootcrate is Transform focusing on robots in disguise.
How to Enter (PLEASE READ CAREFULLY)
Giveaways are only open to subscribers of The Grand Shuckett. In order to enter YOU MUST COMMENT ON THE ANNOUNCEMENT POST AND INDICATE YOU HAVE DONE SO ON THE RAFFLECOPTER WIDGET!
If you're not a current subscriber, you can sign up using your email in the "Subscribe for Email Notification" area to the right. (Make sure to check your email to confirm your subscription. You should receive a notification immediately, so check your spam folder if you don't see it right away).
Also, leave us your email address that way we'll have a way to notify and contact the winners.
Current followers can just say so in their post. The next five opportunities are for bonus entries. Overall, there are up to 4 chances to enter:
Follow this blog via email and comment on your preference to win the ebook or hardcover (THIS IS REQUIRED)
Subscribe to The Grand Shuckett Podcast on iTunes, Stitcher Radio, or Podomatic
Follow The Grand Shuckett on Twitter (bonus entry)
"Like" The Grand Shuckett on Facebook (bonus entry)
Tweet about the Giveaway (bonus entry – you can do this daily for more entries)
The more entries the better your chance to win! Good luck!
Sponsor: Special thanks to our good friend StompyMcRobo for donating a Lootcrate subscription to us.
Related articles