[Giveaways] Enter to Win Cool Stuff from Our July 2014 Lootcrate!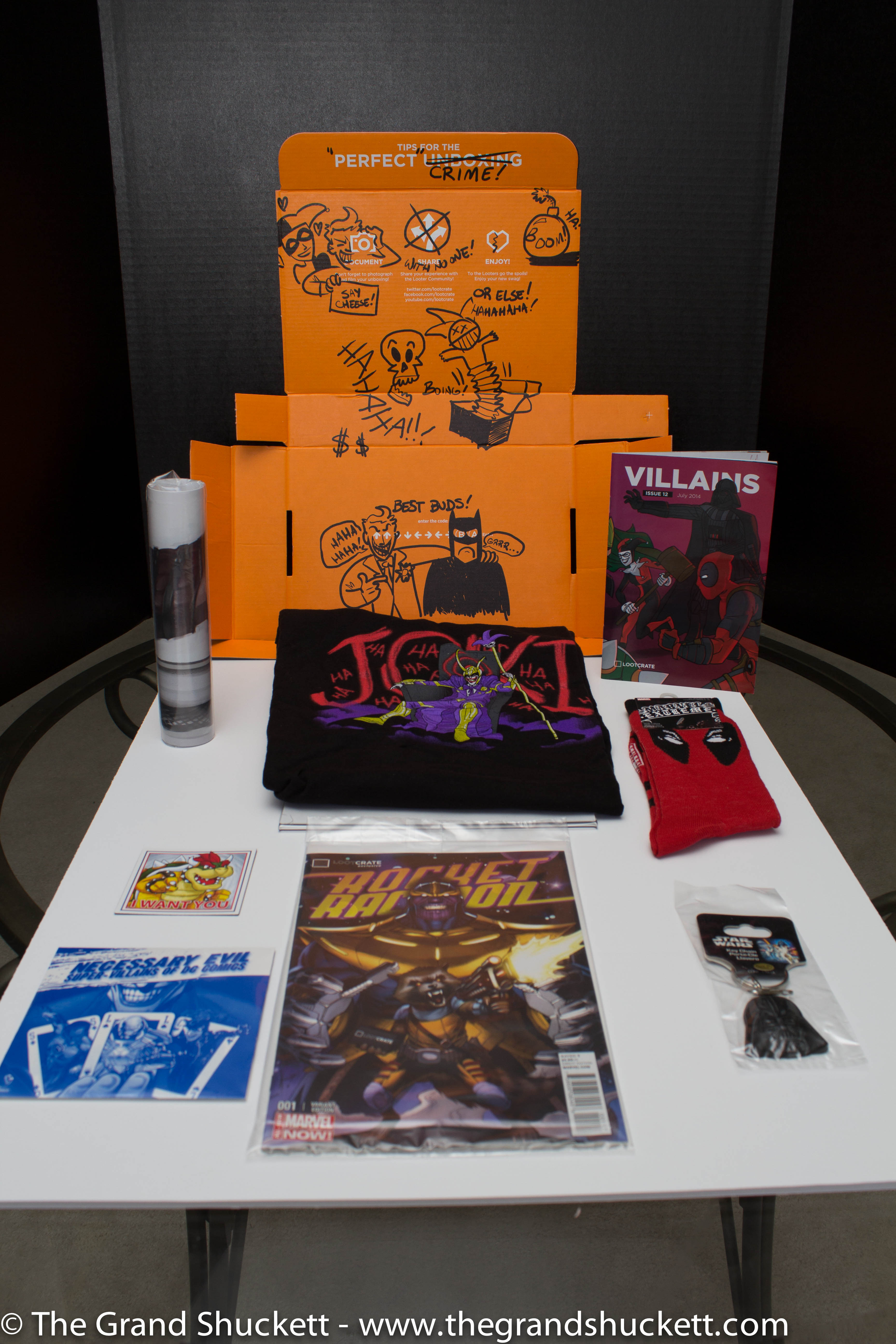 We're happy to announce it's time for another Lootcrate Giveaway!  Enter the contest to win some cool prizes from the July 2014 edition of Lootcrate.
This slideshow requires JavaScript.
The Theme of the July 2014 Lootcrate is Villains "You either die a hero or you live long enough to see yourself become the villain" – Harvey Dent
Here are the three packages you can win!
Package A
Joki Villain T-Shirt: This shirt combines two of comics most dastardly chaotic villains from two different comic houses.
Package B
Exclusive Rocket Racoon Comic Book: Written and drawn by Skottie Young, exclusive cover by Dale Keown
Bowser Magnet: 3″x3″ – Bowser wants YOU to help him thwart those obnoxious plumbing brothers!
Darth Vader Keychain: It can't all be about comic books because we'd be leaving out another famous villain entirely! Take Vader with you everywhere to remind yourself it's okay to be a little bit bad.
Package C
Harley Quinn Poster
Deadpool Socks
Necessary Evil DVD: Christopher Lee narrates this awesome documentary that explores the villains of the DC universe for over seven decades of incredible comic book chaos!
How to Enter (PLEASE READ CAREFULLY)
Giveaways are only open to fans of The Grand Shuckett on Facebook.
In order to enter YOU MUST COMMENT ON THE ANNOUNCEMENT POST AND INDICATE YOU HAVE DONE SO ON THE RAFFLECOPTER WIDGET!
Also, leave us your email address that way we'll have a way to notify and contact the winners.
Winners will be chosen randomly, however, the more entries you have the better the odds of winning.
Sponsor: Special thanks to our good friend StompyMcRobo for donating a Lootcrate subscription to us.