[Giveaways] Enter to Win Cool Stuff from our October 2014 Loot Crate!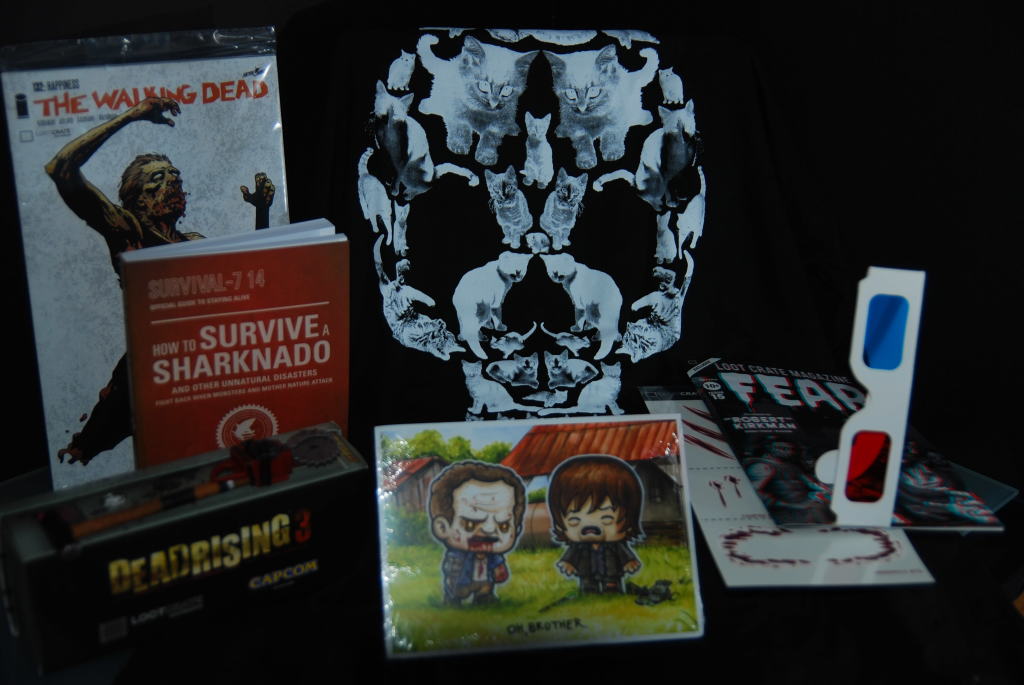 We're happy to announce our next Loot Crate Giveaway! Enter the contest below to win some cool prizes from the October 2014 edition of Loot Crate!
This slideshow requires JavaScript.
The Theme of the October 2014 Loot Crate is Fear!!!
Dear Looters,

No Matter what we love to do, we've all felt the same thing at one time or another…FEAR. Maybe you've stumbled upon it while investigating the t-virus in Raccoon City or dodged it rentlessly while speeding your kart down Rainbow Road! No matter where it lurks, the adventurer will find it, waiting ot strike from the shadows when least expected.  The best thing about fear is that we can all learn from it, so whwn you face it remember: Never give up, always 1UP!  This month dig in and enjoy a spooky celebration at the things that creep us out, and remember tha we've got your back no matter what!

Team Loot Crate
Here are the three packages you can win!
Package A
Super7 "Death by Kitten" t-shirt
Package B
Dead Rising 3 Collector's Item SledgeSaw Hammer Pen
How to Survive a Sharknado and Other Unnatural Disasters
SuperEmoFriends zombie print "Oh, Brother" by JSalvador
Package C
Loot Crate Magazine with 3D Glasses
The Walking Dead #132 signed by Charlie Adlard
Slashes & Bites Tattoos
How to Enter (PLEASE READ CAREFULLY)
Giveaways are only open to fans of The Grand Shuckett on Facebook.
In order to enter YOU MUST COMMENT ON THE ANNOUNCEMENT POST AND INDICATE YOU HAVE DONE SO ON THE RAFFLECOPTER WIDGET!
Also, leave us your email address through the Disqus Comment System that way we'll have a way to notify and contact the winners.
Winners will be chosen randomly, however, the more entries you have the better the odds of winning.
Sponsor: Special thanks to our good friend StompyMcRobo for donating a Loot Crate subscription to us.