[Giveaways] Enter to Win Cool Stuff from our November 2014 Loot Crate!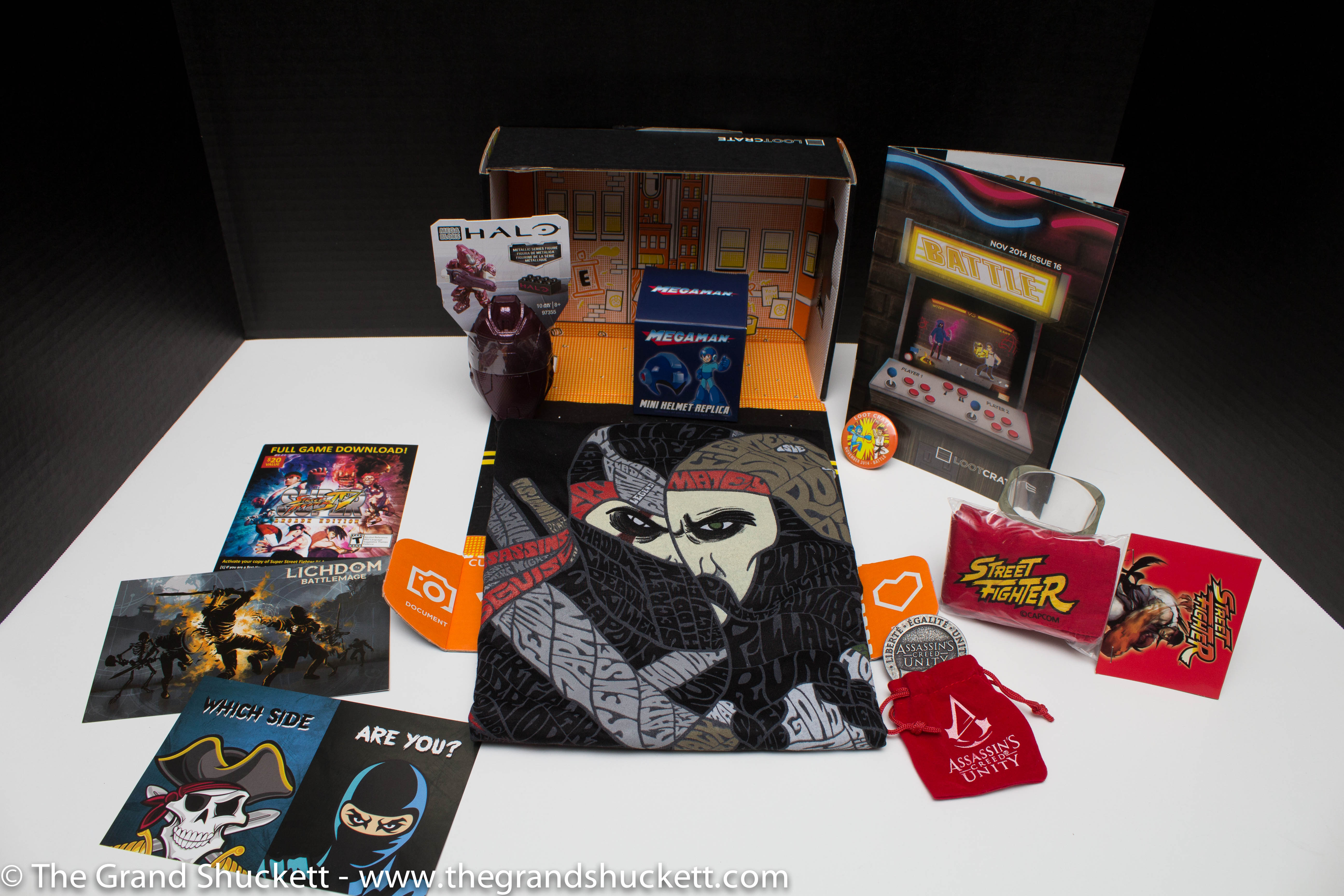 We're happy to announce our next Loot Crate Giveaway!  It's been a while but we're back ready to give away a bunch of cool stuff.  Enter the contest below to win prizes from the November 2014 edition of Loot Crate!
This slideshow requires JavaScript.
The Theme of the November 2014 Loot Crate is BATTLE!!
No matter how good you are, there's always someone waiting to test their skills against yours in glorious battle!  Whether your battles are fought in a galaxy far, far away, or deep within yourself, there is always something to be gained.  Sometimes it's ancient secretes or an awesome sword, but every once in a while it's sweet, sweet loot!  This month we've got battles in our sights, and we're glad you're here with us.  Suit up and prepare to test your might!

-Team Loot Crate
Here are the three packages you can win!
Package A
Package B
Street Fighter Headband
(2) issues of Mega Man Digital Comic
Full Game Download of Street Fighter IV Arcade Edition on Steam
Assassin's Creed IV Unity Coin with Velvet Pouch
Package C
50% off Code for Lichdom: Battlemage Game Download on Steam
Mega Man Mini Helmet
HALO Drop Ship Mini Figure
How to Enter (PLEASE READ CAREFULLY)
Giveaways are only open to followers of The Grand Shuckett on Twitter and Facebook.
In order to enter YOU MUST COMMENT ON THE ANNOUNCEMENT POST AND INDICATE YOU HAVE DONE SO ON THE RAFFLECOPTER WIDGET!
Also, leave us your email address through the Disqus Comment System that way we'll have a way to notify and contact the winners.
Winners will be chosen randomly, however, the more entries you have the better the odds of winning.
Sponsor: Special thanks to our good friend StompyMcRobo for donating a Loot Crate subscription to us.