[Giveaways] Enter to Win Cool Stuff from our December 2014 Loot Crate!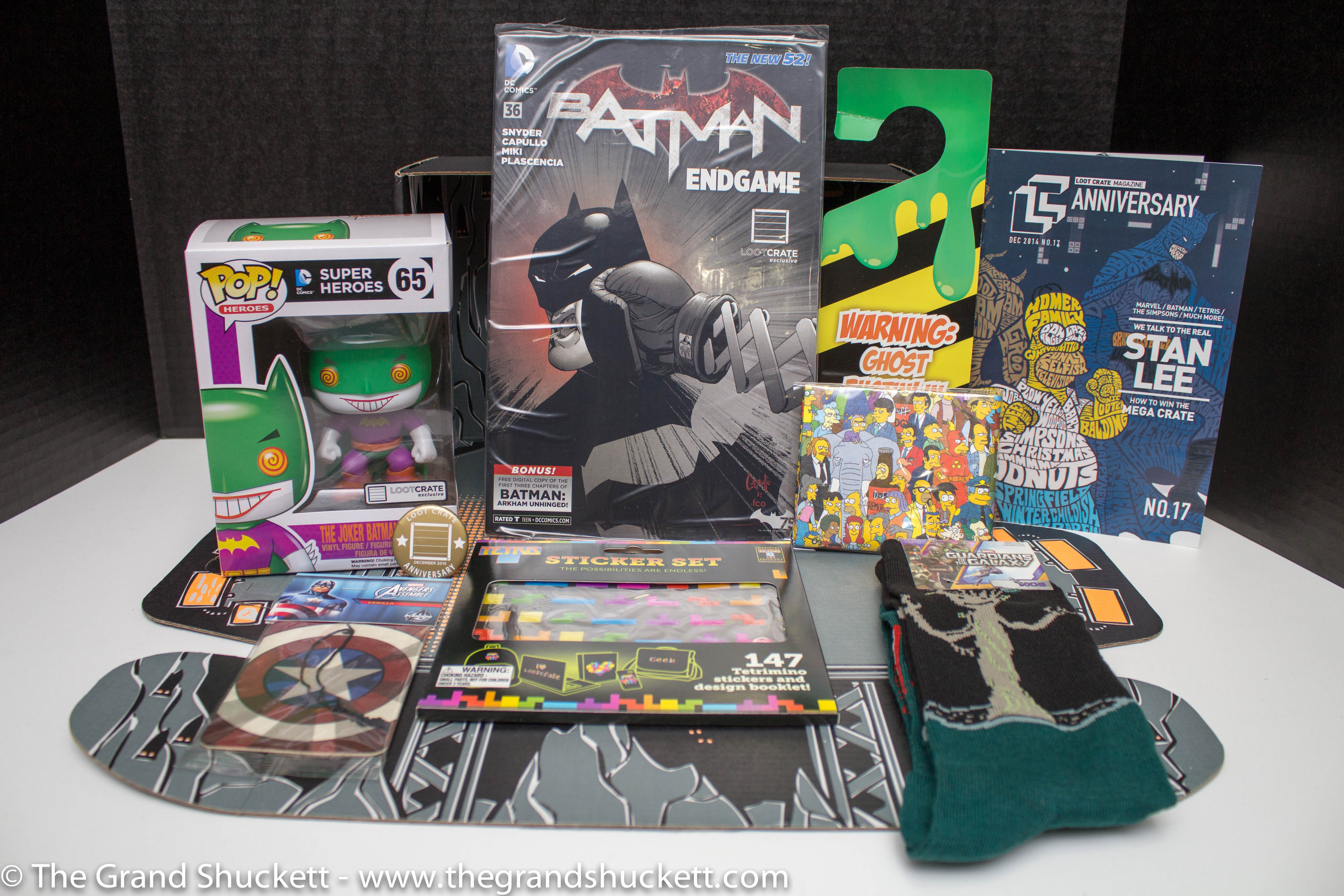 We're happy to announce our next Loot Crate Giveaway!  Enter the contest below to win prizes from the December 2014 edition of Loot Crate!
This slideshow requires JavaScript.
The Theme of the December 2014 Loot Crate is Anniversary.
This month's theme is a very special one as we celebrate anniversaries.  Our favorite brick flipping game Tetris turns 30, as well as our favorite teams of phantom-trapping scientists, the Ghostbusters!  Americas's favorite family The Simpsons is 25 this year, not to mention milestones for some of our favorite comic book creators, along with their heroes and villains!  There's a lot of awesome stories and memories to cherish, so hang on to your crates and read on!

-Team Loot Crate
Here are the packages you can win!
Package A
The Joker Batman-Batman POP! Vinyl Figure
Package B
Batman Comic Book Issue #36
Tetris Sticker Set
Package C
Ghostbusters Door Hanger
The Simpsons Cast Mighty Wallet
Dancing Groot Crew Socks
Captain America Air Freshner
How to Enter (PLEASE READ CAREFULLY)
Giveaways are only open to followers of The Grand Shuckett on Twitter and Facebook.
In order to enter YOU MUST COMMENT ON THE ANNOUNCEMENT POST AND INDICATE YOU HAVE DONE SO ON THE RAFFLECOPTER WIDGET!
Also, leave us your email address through the Disqus Comment System that way we'll have a way to notify and contact the winners.
Winners will be chosen randomly, however, the more entries you have the better the odds of winning.
This Loot Crate giveaway was made possible by our good friend Stompy McRobo: The Geeks Guide to Fine Collectible Geekery!