[Giveaways] Enter to Win Prizes from our January 2015 Loot Crate!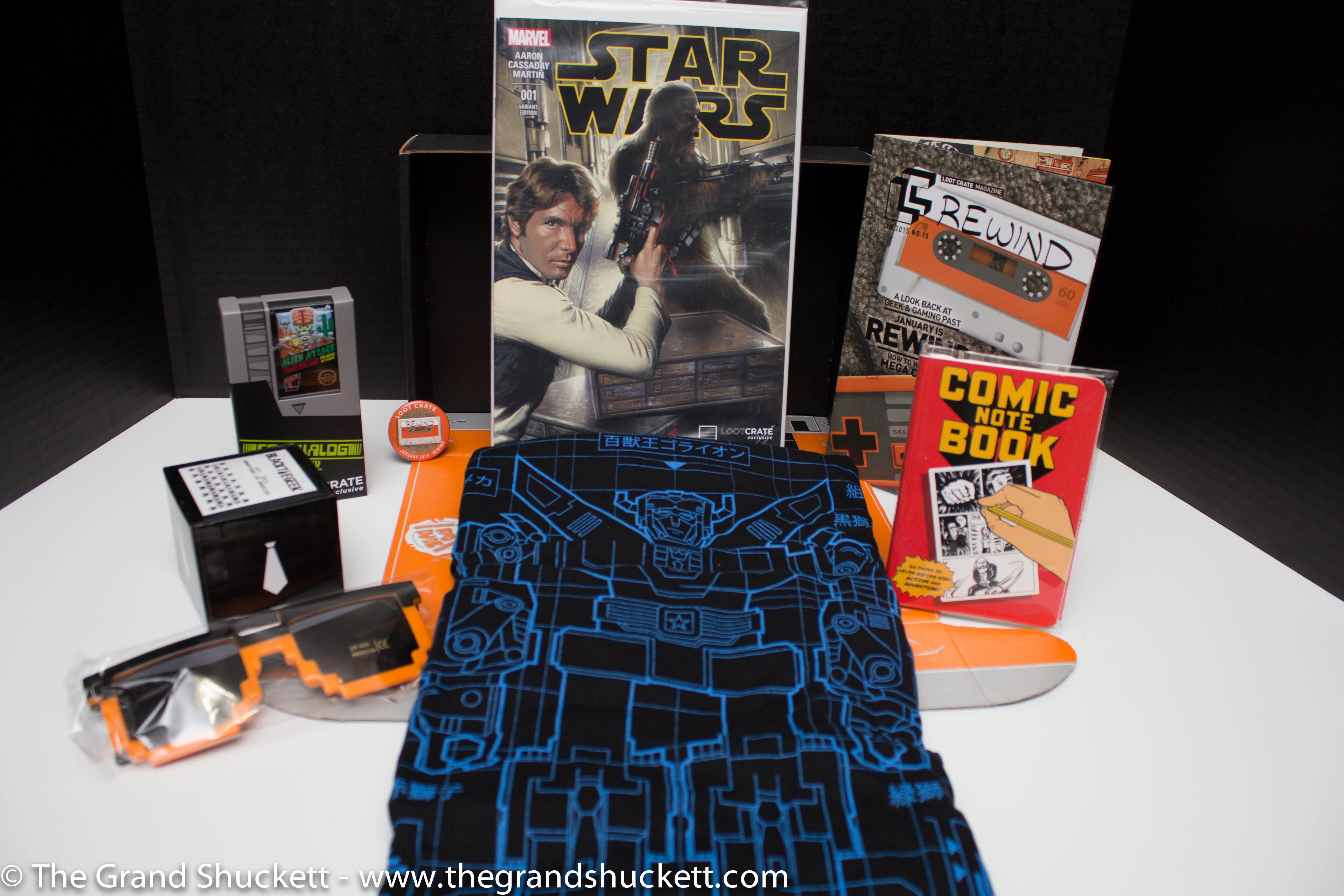 We're happy to announce our next Loot Crate Giveaway!  Enter the contest below to win prizes from the January 2015 edition of Loot Crate!
This slideshow requires JavaScript.
The Theme of the January 2015 Loot Crate is Rewind.
This month we're spinning the hands of time backwards to REWIND!  It doesn't matter how old (or young) you are, there's always something from the past that's hard not to love.  Whether you love to reminisce on dropping quarters in your favorite arcade game with your best friends, or wishing you could still watch your favorite Saturday morning cartoons, get ready to sit back and REWIND!

-Team Loot Crate
Here are the packages you can win!
Package A
Voltron Blueprint T-shirt
Package B
Star Wars Comic Book Issue 001
10-Doh! Figures
Package C
Retro Arcade Skinny Tie
Comic Notebook
8-Bit Glasses
How to Enter (PLEASE READ CAREFULLY)
Giveaways are only open to followers of The Grand Shuckett on Twitter and Facebook.
In order to enter YOU MUST COMMENT ON THE ANNOUNCEMENT POST AND INDICATE YOU HAVE DONE SO ON THE RAFFLECOPTER WIDGET!
Also, leave us your email address through the Disqus Comment System that way we'll have a way to notify and contact the winners.
Winners will be chosen randomly, however, the more entries you have the better the odds of winning.
This Loot Crate giveaway was made possible by our good friend Stompy McRobo: The Geeks Guide to Fine Collectible Geekery!